Greetings,
I would like to take this opportunity to introduce myself. A graduate of the University of California, San Diego (BA) and Georgetown University's National Security Studies Program (MA), I have devoted my career to security and risk management through my work as a speechwriter to the Japanese Mission to the United Nations in Vienna, Austria; a political and terrorism researcher for the Monterey Institute's Center for Nonproliferation Studies and Radio Free Europe/Radio Liberty; a cybersecurity analyst for Silicon Valley technology companies and a national bank; and a private and commercial risk manager and insurance broker.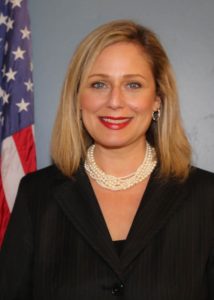 I became an InfraGard member in 2007, in the San Francisco Bay Area InfraGard Members Alliance (IMA). Right away, I realized the importance and value of this organization and got involved as a volunteer. Since then, I have been the Regional Rep for the Pacific Region, COO of the Sacramento, California IMA, and Secretary and Board member of the INMA. InfraGard has been a passion of mine through all of these years, and I am thrilled to focus on this passion full time now!
As Executive Director, my top three priorities are:
Support the activities and mission of InfraGard, the INMA and the IMAs.
Ensure the organization — nationally and at the chapter level — is healthy and compliant with 501(c)(3) requirements, and assist the IMAs, or chapters, in their compliance with the INMA's IMA Certification Policy.
Be a steady resource for InfraGard members, leaders and volunteers when they have questions or other needs related to their InfraGard participation and work.
The mission of InfraGard is to provide a trusted exchange of information related to the protection and resilience of our nation's critical infrastructure. Integrated closely with this, the IMA mission is to support the InfraGard mission by providing a local trusted exchange of information related to the protection and resilience of our nation's critical infrastructure in response to local threats. You can see how closely related these mission statements are, repeating the words "trusted exchange," "protection and resilience," "critical infrastructure" and "local."  These are the essential elements of InfraGard.
By participating in local, regional and national InfraGard events and activities, InfraGard members actively help their IMAs and InfraGard fulfill these missions. In turn, these individuals are more equipped to address threats they may face in their own lives and work, and I believe they return to their local communities, organizations and businesses as leaders armed with knowledge and better prepared to defend their families, work places, businesses and our nation's critical infrastructure. InfraGard members are, in effect, a critical element of the nation's protective forces.
Finally, through their work and participation, our members are supporting the INMA in achieving its mission: to actively execute the InfraGard Mission through supporting partnerships and opportunities with the private sector and all government agencies directly and through local IMAs.
I am honored to serve as Executive Director. I have deep appreciation for our members and volunteers for their leadership and willingness to go the extra mile — to take time out of their very busy schedules — to make a difference in our country's protection of its critical infrastructure.
Sincerely,
Kimberly Pratt
Kimberly Pratt, Executive Director, INMA